Ballerup Museum is a part of the charming village community in Pederstrup.The museum consists the farms of Pederstrupgaard, Lindbjerggaard, Lynsmedenshus (the House of the Lightning Blacksmith) and Skomagerhuset (the Shoemaker's House).

Lindbjerggaard is closed indefinitely due to renovations.
At Pederstrupgaard you will find two permanent exhibitions. The first one presents the history and development of the town of Ballerup. Among other things there is a classroom from the year 1900 and a selection of old-fashioned toys.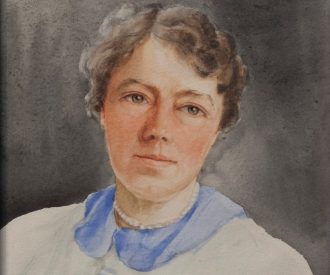 The exhibition "Destined for Ballerup" tells the story about Grand Duchess Olga Alexandrovna, who escaped the Russian Revolution in 1917 and settled down in Ballerup. It also tells the stories of Russian immigrants in Copenhagen during the inter-war period, and the individuals, who through the ages have moved to Ballerup from other countries or other parts of Denmark.
Olga was the daughter of the Tsar Alexander III and the empress Dagmar. She lived in Ballerup with her family from the year 1930-48.
The temporary exhibition "With Brush in Hand" is open until Sunday, December 20, 2020. Russian princess, Grand Duchess Olga was domiciled in Ballerup 1930-48 and painted all through her life. Despite undergoing violent times during World War I and the Russian Revolution, her favourite motif was beautiful flowers and landscapes. She would paint on anything from traditional canvas to china. By means of paintings and objects, this exhibition throws light on Grand Duchess Olga's life and artistic work as a painter. The temporary exhibition is shown and to be seen in continuation of the permanent exhibition "The Road to Ballerup".
In the farmhouse of Lindbjerggaard you can experience the living quarters of a farmer as they looked like in the eighteenth and nineteenth century. In front of Lindbjerggaard you will find the well-preserved farmer's garden from about the year 1900.
An old grocer's shop and forge is established in Lynsmedens Hus where the smiths often light the fire in the forge. Skomagerhuset houses alternating exhibitions and activities.
Opening hours
Tuesday – Friday 10.00 – 15.00
Sunday 11.00 – 15.00
Monday and Saturday closed.

Winter: January-February open Sunday (Monday-Saturday closed).
Closed between Christmas and New Year.
Admission
Free
Find your way
Get off the S-train at Ballerup Station. Walk at "Pederstrupstien" direct to the museum (approximately 15 min. walk).
Buses from Ballerup Station. Stops 5 min. walk from the museum:
Bus 143
Bus 216
Eat and drink
Konditorgaarden Café www.konditorgaarden.dk
tel: +45 23 928818
Grantoftegaard – café and art www.grantoftegaard.dk